WK:END MIMF's first ever creative music workshops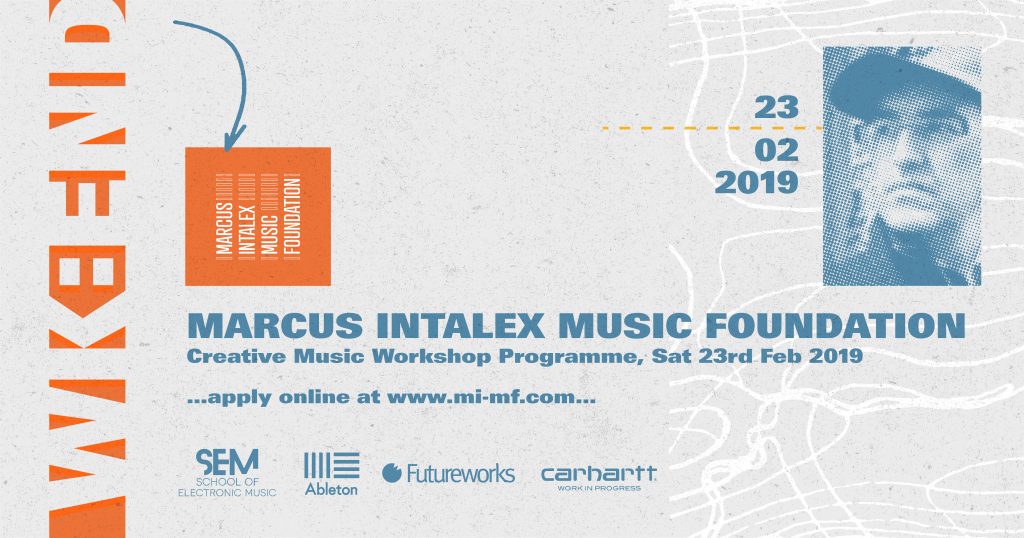 Inspiration. Knowledge. Engagement. Facilitation.
Artist led music workshops with…
Afrodeutsche, Ancestral Voices, DBridge, Dub Phizix, Jenna G, Meat Free, Swing Ting,
Zed Bias and more…
Are you a producer, vocalist, audio engineer, DJ, instrumentalist, into synths, or interested in any other creative processes involved around making music? Then we want to hear from you.
In February, the Marcus Intalex Music Foundation (MIMF) is launching our first ever WK:END of free workshops in Manchester aimed at developing bright, new musical talent. You'll have the chance to rub shoulders with some of the best artists that shape electronic music today, develop your skills, explore new techniques and gain the right knowledge to further your career.
From taster sessions in music production, masterclasses in beat making, DJ workshops delivered by seasoned experts and more; we'll host and facilitate a programme that encourages participants to immerse themselves in everything we love about music and the artists we admire.
To be considered, you'll need to complete a short questionnaire highlighting your interests and skills, as well as giving us a bit more information about yourself and why you want to take part. You'll also be given the opportunity to share some of your work with us; this could be your own tracks, a DJ mix, or anything that indicates which aspect of music you're involved with.
Selected WK:END participants will receive the following:
One-to-one support from established artists
Access to relevant music software and hardware
Workshops that will develop skills both in and out of the studio
Free passes to a series of events during the weekend, held on February 22-24th and featuring some of the most respected names in electronic music, many of whom were Marcus' friends, collaborators and contemporaries
---
Application and selection process
Workshops will take place Saturday, February 23rd from 11am-8pm.
CLICK HERE TO APPLY
Applications will close Thursday January 31st 2019
MIMF will select up to 20 applicants for our creative music workshop programme. We will be announcing successful candidates early February 2019.
WK:END will be hosted at various venues across Manchester city centre. We will provide the successful applicants with the necessary details on selection. Prior travel arrangements
should be made independently.
Applicants must be aged 18 years or over.
We are committed to ensuring our application process is accessible. If you require the application in a different format, or have difficulty completing the application online please contact us at info@mi-mf.com to discuss alternative options.
——
To be the first to hear announcements on WK:END artists and workshops, sign up to our schedule here: ​www.mi-mf.com/schedule