Goldie
(London)
Marcus Intalex was an unbelievable person, as well as a hugely talented musician- he wanted to inspire and help develop people trying to make their way up in music, especially in Manchester.
Having a place like the Marcus Intalex Music Foundation is such a great thing for the city.
With all the government cuts happening in schools for music and opportunities in general, it will help provide young people and the creative community much needed access to great studio spaces, workshops, and the people who are pivotal to Manchester's culture and beyond.
It will not only help support artists right now, but also I have no doubt , will certainly help the community and future generations down the line .
The foundation wants to build something that captures the spirit of this great man and his generous nature. Marcus was such an inspirational guy, and always there if you needed him – MIMF will not only reinforce that,  but also provide an invaluable framework of resources and opportunities for the north of England.
This is such an exciting and worthy project to be a part of , let's all give it the backing it deserves.
https://www.metalheadz.co.uk/artist/goldie

Swing Ting
(Manchester)
The MIMF will be an invaluable asset to the musical community – inspiring the next generation of creative practitioners.
It will provide much needed resources and access to professional music education whether this be workshops, studio sessions events or access to mentors.
It will keep the spirit and determination of Marcus' ethos and passion alive through the development and support of Manchester's future artists. 

Jon K
(Manchester)
"You'd be very hard pushed to find someone connected with Manchester's music scene who commanded more genuine Respect than Marcus.
A Pioneer, Visionary & lover of all kinds of music with a spirit, sense of humor & no bullshit attitude that was second to none.
With that in mind the idea of harnessing Marcus' legacy to help provide a Mastering studio & other much needed facilities in Manchester seems like the perfect tribute. His influence knew no bounds in life so this next chapter will hopefully just be a further extension of that!!"
https://www.residentadvisor.net/podcast-episode.aspx?id=590

Dub Phizix
(Manchester)
In the last 20 years, as more people have moved to Manchester, the real estate once used for music in the city has gradually been eaten up and turned into flats, bars and coffee houses. Ironically many of these people have moved here to be amongst the rich culture the city has to offer. Music is, and always has been at the forefront of that. 
At one time there were a number of buildings which housed studios, labels and offices related to music. One of which was New Mount Street where Marcus had a studio and made a lot of his classics, In the past it had housed bands such as The Inspiral carpets and The Stone Roses. More recently Zed Bias and Future Cut to name a few. The latter taught me a lot of what I know in their studio there. They also did the same for Chase and Status who's studio was across the hall. 
One of the best parts of that building was the fact that there were people of all levels and stages in their music careers. The older people could feed off the youngsters and in turn teach and guide them along the way. 
Nowadays there are few of those buildings left, the last one is Wellington House in Ancoats which was recently bought by the Northern Group, a property developer. It has been earmarked for 'regeneration' and is on borrowed time. Most of the people in there are unsure about where they will be going next as anywhere else in the city is either full, too expensive or simply doesn't welcome musicians. 
As a result of all of this, Manchester has been crying out for a musical hub to tie people together. A properly run place with decent facilities and a community of people. It's shocking that we don't currently have one. 
In his time, Marcus bridged that gap. I was lucky that I had him as a mentor when I came through, he guided me and advised me on the best course of action on things, introduced me to people and customs I didn't know about and made me feel like what I was doing was the most important music at that time. 
I am absolutely positive that he would have done that for other people down the line as he had done for many people before me but unfortunately he isn't here to do that now 
This foundation could not only fill that gap but go further in providing facilities that Marcus wasn't in a position to. Proper recording studios, mastering and cutting, production workshops, industry workshops and seminars with people who are already successful of which we have a wealth of and would all want to be involved. 
Manchester music has never been stronger with the amount of art coming out of the city but it is struggling to keep up with the capital from a business perspective as there isn't even close to the industry infrastructure here proportionally . 
I was asked in an interview when Marcus died, what affect he had on music here and my answer was that he created a culture of support which runs through the veins of the music community in this city. I feel it's our duty as his mates and Manchester's musicians to carry that legacy on.

Demdike Stare
(Manchester)
– MIMF will be an invaluable platform for young people, it will provide resources and access them to professional music studios to inspire, guide and boost creativity   
– It will keep Marcus' ethos and goodwill through sharing and developing emerging talent in Manchester 
Sean Canty
http://www.factmag.com/2017/01/26/demdike-stare-wonderland-interview/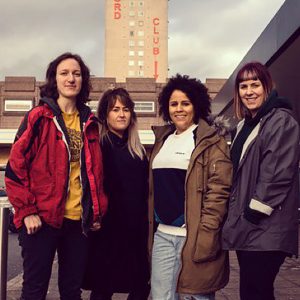 Steffi, Meat Free
(Manchester)
"The benefits of a cultural/educational space are endless. Free access to DJ and production equipment is extremely rare but having this in place could help spark and nurture creative streaks that are often overlooked in mainstream education.
 Even as adults we rarely take the plunge to learn something we've always wanted to do, but this would genuinely be a place for people to come if they feel like they missed their opportunity. 
I run Meat Free, a Manchester based club night with three other women and we have been looking for a fully equipped space to run free DJ lessons for women. Currently there are no facilities to cater for this so we wholeheartedly welcome this idea" 

Illum Sphere
(Berlin)
Having a space like the Marcus Intalex Music Foundation is such an incredible thing for the city. A space giving young people access to facilities, courses and people who are central to Manchester's music scene will no doubt inspire future generations to unleash their full creative potential. Its ethos and approach perfectly encapsulates how Marcus was. He was always there if you needed something, whether it was production advice or just to chat. The Foundation is an example of how important he was to so many people, and to Manchester, and something that will allow many young people for years to come the same support and guidance that Marcus gave to many.
https://ninjatune.net/artist/illum-sphere

Afrodeutsche
(Manchester)
Manchester is quite simply a city where an artist has the absolute freedom to make and create.
 Manchester has always been and continues to be a nurturing, inspiring and generous city within its music scenes. In my experience, each music scene crosses over into another; be it a drummer from a band, is also a sound engineer and worked with a vocalist – who then recommend them to a producer for another project…. The pot is small, but it is full of experienced professionals eager to share their knowledge and experience.
It is clear that the city needs a central hub for all of this activity.
A place to exchange knowledge and experience, collaborate and build careers in music for creatives, people who are not even sure it is possible to have a career in music…. All delivered by an amazing network of people willing to commit to this project .
A practical environment that includes space for workshops/ seminars/ social events and studio spaces, all of which will encourage each creative into different avenues of music.
I would not be working, producing and touring my music without having had the absolute support of the knowledgeable people who live in this city, I would hope that my experience of the city could be shared, facilitated by a central hub space in Manchester.
http://www.factmag.com/2018/06/27/fact-rated-afrodeutsche-interview/

Children of Zeus
(Manchester)
My name is Konny Kon and I represent a soul/hip-hop group from Manchester called Children of Zeus.
The foundation would be a great presence in Manchester for young artists and established acts as right now the music scene here is in creative place that hopefully will sit side by side with the cities rich musical history which mostly focussed on the Manchester/Hacienda era. 
As someone who's been struggling for 20 years putting out records I've never seen the scene look so healthy as it does now. From travelling round the world I can tell it's finally reaching further afield and we have an abundance of young talent that are full of fire, and cutting edge music that needs nurturing and resources to reach their full potential.
I personally help out a lot of the younger guys coming up and I think this could be huge for them if it goes ahead.
The one thing that has made the current Manchester music scene finally make its presence felt, is the community spirit and support that we built up the last few years. 
A hub to make the scene more close knit could be the key to being self sufficient, and maybe even turning Manchester to a place like Berlin where creatives flocked to from round the world. It would be a welcoming central spot for travelling musicians in the city and also a great place for those up the ladder to pull up those further down which is how our scene has been working over the last few years.
Really excited to see what can come from the next few years of Mancunian music and I hope we can all contribute to a part of our cities rich musical heritage. 
Konny
https://mixmag.net/feature/get-to-know-children-of-zeus-the-duo-oozing-soulful-class

MC DRS
(Manchester)
Marcus was and still is a massive inspiration for Manchester music and a bench mark for how far you can push an idea or sound 
I personally watched and helped build Soul:r the record label and the Soul:ution club night and have seen first hand the power and love that it has both in Manchester and around the world.
That's why the MIMF is so important to the the city it's youth and our ever flourishing music scene 
A hub for creativity and actual music business education for young people and mature visitors Is needed so much in Manchester and the north of England 
And I personally would love to be involved in teaching and just generally passing on the knowledge and experience I was lucky enough to learn from and while working with Marcus for over 20 years

Equiknoxx Music
(Jamaica)
I live in Kingston, Jamaica and musically I mainly operate there; However, I often visit the UK and Manchester is where I call my Second home. Like Kingston, Manchester is a city where I spend time performing, sharing and creating with my team and a wealth of talented artists. It would mean a lot to see a unique music space constructed to facilitate knowledge and engagement, inspired by the legacy of prolific musician & Mancunian Marcus Intalex. – Gavin Blair (Equiknoxx Music) 
http://www.redbullmusicacademy.com/lectures/equiknoxx-and-shanique-marie

Calibre
(Hamburg)
Marcus called me in Belfast, it was the very early 2000s and I had already heard his music but I felt that when I spoke to him it would lead to bigger things, 
it wasn't long before he invited me to to work with him and Lee Davenport at his house in Chorlton, I learned a lot in those early years and owe much to them both. 
Those nights and days spent working in Manchester are a magical and enduring memory for me, I realised then how much Marcus worked and how focused he was on the task in hand, and it all seemed to be born out of a love for the music.
Marcus Kaye's effect on the industry and its personalities was far reaching, he had a wonderful sense of purpose and an array of talents that he utilised to great effect relating to everything from music making to inspiring others to do the same and more.
I personally feel that he was probably one of the largest influences in my music career and would like to think it was the same for others. It would be a great honour to be associated with his legacy in Manchester and beyond.
Dominick Martin. 
https://ukf.com/words/rare-audience-calibre-drs/22096

DBridge
(London, Belgium)
Marcus was a friend, a colleague and someone I admired and respected greatly. You've probably heard countless tales of his honesty, forthrightness, how he doesn't suffer fools, was occasionally grumpy, but the overriding fact is that he is an inspiration, all of which is true. 
To me he was someone who gave me the confidence to pursue my solo path. My label was in it's infancy and I was musically unsure with what I was producing so when he asked me for a release for his label it was instrumental in filling me with the belief that what I was doing was ok, It's Soul:R ffs! 
Talking of 'Instra:mental', 'Naked Zoo' on DAT Music was what lead me to work with those guys, I heard it and flipped out. I sought them out and we went on to develop our Autonomic story together. It's these seemingly small acts that he was a part of that led people on to great things and is what will be missed the most, and I think this is where something like the foundation can be of great benefit to Manchester and music as a whole. For Marcus's name to be able to continue to carry on these small but important acts
I miss ya mate. 
Darren, DBridge

Djinn
(Manchester)
The beating heart of the north, but often criminally overlooked, Manchester continues to display it's unique musical talent with a vibrant bustling scene & an endless array of artists breaking through to deliver outstanding output across the genres, yet there is no definitive hub to locally support or nurture such creatives, neither budding nor established.  
 A figurehead of the city's scene, Marcus Intalex left behind a powerful legacy, both musically & personally. A talented, humble, artist, he was Inspirational & helpful to many; respected & looked up to by generations of Manchester's DJs, producers & promoters.
 In his memory, The Marcus Intalex Music Foundation's purpose is to support, encourage & strengthen the musical community of Manchester & beyond; to provide a space for creatives to improve their skills, to guide & empower those with a passion for music to reach their potential, to create opportunities for those wishing to further themselves in a range of music industry related roles, to allow access to knowledge, skills & experienced tutors/mentors along with professional studio equipment that some perhaps otherwise would not have, to unify like-minded local heads, forging new projects, alliances & friendships, as well as to support, & inspire the artists that have already embarked on their journey within music. 
 MIMF will no doubt become a cornerstone of Manchester's musical community for years to come.
https://djmag.com/content/recognise-006-djinn

Dave Haslam
(Manchester)
MIMF is an exciting, and meaningful project to give people the tools and encouragement to make it in music. Manchester and its surrounding areas is blessed with talented people with ideas and imagination and great potential. Over the decades, I've too often witnessed this potential not being reached. MIMF will clear pathways, make careers, and help make that potential a reality.

Willow
(Berlin)
There is so little space in modern cities for youngsters to do anything productive. Funding for projects is constantly being cut and there is big potential we are missing out on a huge amount of young creative musical talent that is bursting with passion and love for the city and the music. Manchester gave me so much in terms of music. All of my musical influences from the clubs, record stores, to the passionate music community. Anything that pushes to create more of what I was lucky to experience I'm completely behind.  The MIMF space will open up the opportunity to find, future and discover talent in a city that is so synonymous with pushing the boundaries of all genres of music.
This can only bring positivity and energy that manchester music scene is thriving with but needs that outlet to share this with the rest of the world. 
Thank you,
Willow 
https://octopus-agents.com/willow

Mary Anne Hobbs
(Manchester)
"There is incredible creative potential in my city Manchester, but it's a city where resources for young people are scarce. A studio space, and mentoring programme could really help to unlock that potential in young people. A beautiful tribute to the legacy of Marcus."
 Warmest wishes 
 m/a..x
http://www.pbjmanagement.co.uk/artists/mary-anne-hobbs

Chimpo
(Manchester)
Marcus Intalex's legacy was of helping to bring people into music and he was instrumental in kickstarting so many peoples careers. This is nothing short of life changing. Potentially life saving in some cases.
It's so important that this is carried on. Especially now when government cuts have left creatives and young people short on utilities. Marcus Intalex Music Foundation promises to offer these opportunities to those seeking it and the importance of this to me is immeasurable.
Marcus changed my life and this foundation can do the same for so many others.
https://www.dummymag.com/mixes/dummy-mix-496-chimpo