About Us
MIMF is a platform to support and nurture talent in many aspects of music development and the culture that surrounds it.
One of Marcus' greatest passions was to encourage and guide aspiring music talent , as well as pass on the knowledge he himself acquired over the course of his long-standing and successful career.
His importance to the Manchester music scene cannot be overstated, and as an extension of that, the Marcus Intalex Music Foundation aims to continue working in this spirit.
From workshops and studio sessions, to seminars and events; we will host and facilitate a series of programming for people to explore, learn and immerse themselves in everything we love about music and the people we admire.
Foundation presents DJ Marky & Fox at Band on the Wall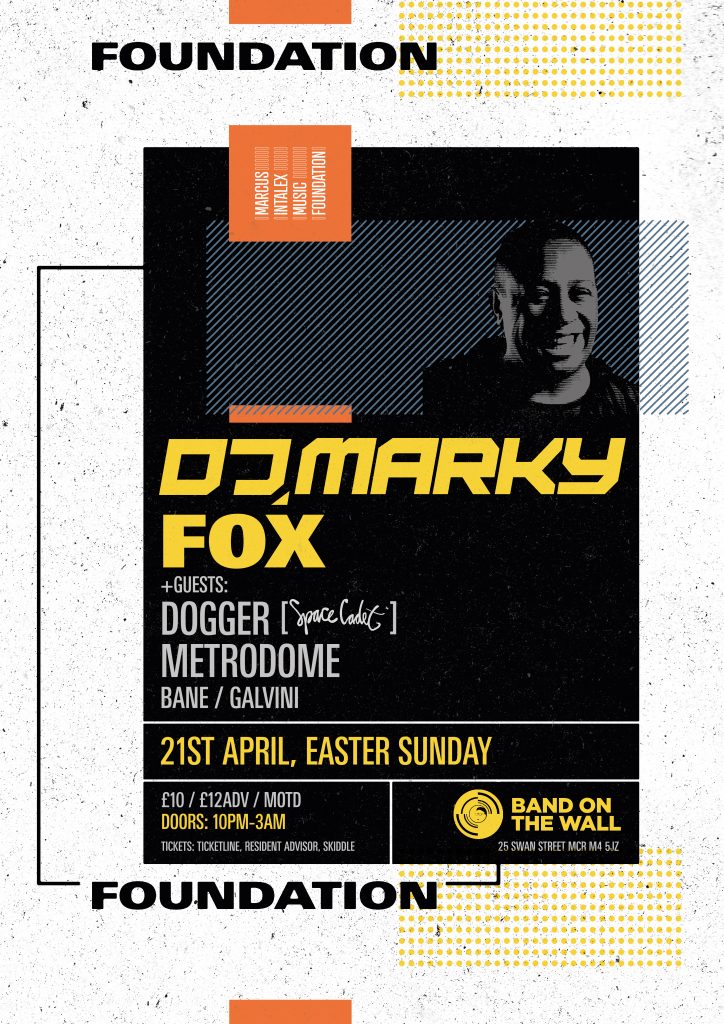 Join us for a special Easter Sunday party at Band on the Wall, the first in a series of our Foundation events..
Kicking off we have Brazil's finest, the legendary DJ Marky, hosted by our very own Fox.. alongside some good friends to be announced soon.
all proceeds go to the Marcus Intalex Music Foundation
www.mi-mf.com
Foundation
21st April, Easter Sunday
Our first MIMF WK:END of Creative Music Workshops is over!
Thanks to all who came down, participated, danced and supported our first WK:END event here in Manchester!
Marcus Intalex Music Foundation CIC: Donate Now
The Marcus Intalex Music Foundation has been established to build on the legacy of the legendary drum and bass and techno artist who sadly passed away in 2017. And you can now play your part in its future by pledging your support.
Throughout his illustrious career Marcus was able to nurture and develop emerging talent through his Soul:r record label, with the likes of MC DRS, Dub Phizix, Chimpo, and DJ Marky featuring on the imprint before going on to widespread acclaim. He was also a champion for the city of Manchester, taking every opportunity to bang the drum for the city as his DJing commitments took him around the world and back.
This February MIMF will launch the first in a series of educational workshops & events to give the next generation of talent the tools and space to develop their craft. Over one weekend in and around Marcus's beloved Manchester, aspiring musicians will be able to attend workshops, rub shoulders with some of the biggest names in the industry and participate in music events.
Undoubtedly one of the world's great music cities, Manchester, like many others, faces a battle to provide affordable access and dedicated spaces for up and coming musicians. MIMF aims to tackle this head-on and will provide a direct connection for aspiring musicians to some of the biggest names in the business. Some of Marcus's closest friends and allies have already pledged their support; Goldie, Mary Anne Hobbs, Floating Points, Martyn, Dave Haslam, Actress and Children of Zeus are among those backing our cause.
MIMF is not-for-profit and all donations will be poured into the Foundation's outreach work and mission. Everyone involved is very proud of being able to build on the legacy of the great man, and we thank you in advance for your contribution.
Schedule 2019
If you wish to be involved in, or be the first to hear about upcoming events and workshops, please leave your contact details below and we will be in touch...