Mark Ernestus Ndagga Rythm Force
On the 26th July 2019 the latest instalment of FOUNDATION presents an evening performance of Ndagga Rythm Force at Band on the Wall in Manchester, with a daytime of workshops at Z-arts.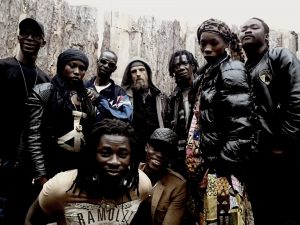 The brainchild of Berlin techno luminary Mark Ernestus, Ndagga Rhythm Force have spent the past few years establishing themselves as an undeniably exhilarating live act on stages around the world.
Bringing his electronic production sensibilities and taste for dubwise to the rhythmic landscape of Mbalax, Ernestus tends to reside at the mixing desk when it comes to Ndagga's live shows, leaving the audience enthralled in the energetic grip of the on-stage nine-piece. Characterised by hypnotic polyrhythmic drums guided by the vocals of Mbene Diatta SECK, Ndagga Rhythm Force's music is best experienced in its live form, where studio versions of their tracks are wrought out into extended exploratory jams.
This live event at Band on the Wall will be their debut performance in Manchester, as part of our 'Music Connects Us' programme – following a day of interactive workshops facilitated by the Marcus Intalex Music Foundation – inviting participants to immerse themselves in Senegalese music, dance and culture
Tickets are for the evening event are available from Resident Adviser £15.50 earlybird/£17.50 advance. With support from Conor Thomas (The Death of Rave/Boomkat). Doors 7pm.